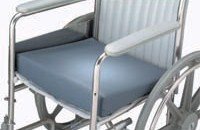 Medical Cushions - Custom Vinyl and Gel Filled
Medical Cushions offers commercial grade vinyl fabric seat cushion, bench cushions, and vinyl pillows that are easy to clean/disinfect and are very durable. Our seat and bench medical cushion are filled with a foam core that has a 1" memory foam gel on top and bottom of foam core. This three-layer vinyl cushion is very comfortable and will retain its shape over time. Our medical cushions are great for wheelchair cushions, hospital/emergency room applications, doctor offices, veterinary clinics or any kind of high-traffic companies that requires a cleanable surface cushion. We simply make it more comfortable for patients to sit while they wait. All of our cushions are stuffed with fire retardant foam covered with an easy to clean high-rub vinyl in multiple colors. Wee will also be glad to make your cushions using your fabric or vinyl due to special regulations or to ensure matching color of your existing cushions.
Use one of our wheelchair cushions to alleviate pain and stress from long periods of sitting. Wheelchair cushions also work great in motorized chairs and medical scooters! Just enter your dimensions and we will custom make your comfortable wheelchair cushions.
Our custom medical bench cushions can add subtle comfort to benches in hospitals and other medical offices used in patient waiting areas. Use custom medical pillows for extra comfort and support at home or on the go!
Simply choose the medical cushion style you want and follow the step-by-step directions at the product level. You can fully customize your cushions by choosing the fabric, width, depth, and thickness. Your cushion will ship within 15 working days!
Medical Cushions - Custom Vinyl and Gel Filled
Thank you for visiting Medical Cushions.com. For any and all special request, large commercial orders, or special custom request, please call our customer service team Monday-Friday from 8:30 AM to 7:00 PM EST at 334.387.9883.